VNB Brokers is developing a series of blog posts taking a deep dive into the opportunities available for small businesses in each of New York City's inner neighborhoods. To help buyers and sellers of small businesses alike understand the risks and opportunities in businesses for sale throughout New York City, VNB Brokers is creating a series of blog posts exploring opportunities in the various zip codes of New York City. For other posts in this set, visit the New York Business Insights section of our web site. 
The Business Landscape in 10009
The total number of business establishments in 10009 have been averaging a yearly growth rate of about 1% annually over the past year (as reported by US Census data). In absolute terms, the estimated number of business establishments in the 10009 zip code was reported to stand at 1,236 as of 2017. As you might expect to be the case when business establishment count is rising, the total number of employees in 10009 is also up — averaging an annual growth rate of about 2.15% over the period observed. To complete the trifecta is the growth in average salary: the current average salary in 10009 is estimated to be $45,354, and has enjoyed a growth rate of approximately 2.43% over the past 5 years. Growing establishment counts, employee counts, and average salaries suggests the business climate for 10009 is pretty hot.
In terms of the specific industries that are growing in 10009, Caterers is one that seems to fit that bill. It now has about 7 establishments in the zip code, and has been growing at about 6.96% per year. For those interested in riding trends, that may be something to watch.
A Look at the Demographics of 10009
First, it should be noted that this is one of the most populous zip codes in New York, as it reports more IRS filings than 99% of other zip codes in the city. As such, if your business thrives on a locally dense population, 10009 may be an interesting geography for you. On a proportional basis, this zip code is wealthy enough to have a sizable percentage of its population saving for retirement: the proportion of IRS returns from 10009 with an individual retirement account (IRA) contribution is greater than that reported by over 90% of IRS returns. But while 10009 is good, relatively speaking, at saving for retirement, this population does not have the attributes typically associated with homeownership; specifically, 80% of zip codes in New York City have more individuals with mortgages than 10009 has. If this fact can be extrapolated to suggest the population of homeowners is relatively low, that may be an interesting point to consider for businesses that are sensitive to the degree of transience in its local population.
Here's a chart summarizing the key demographic attributes of 10009: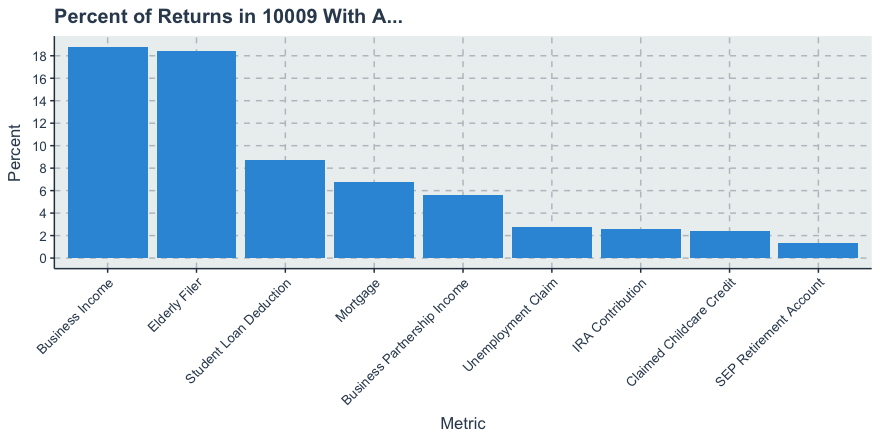 Have additional questions on buying or selling a business in 10009? We'll be happy to help you as best as we can. Just drop us a line.
Read More