This post is a part of VNB Brokers' series on the business environment within given zip codes in the New York City area. If you're an a buyer or seller of a small business in New York, this data can help understand the opportunity and successfully negotiate a valuation.
The Business Environment in 10001
Overall, the business environment in 10001 (located in Chelsea) is up, with the number of establishments having a yearly growth rate of about 0.12% per year from 2012 through 2017 (the last year of publicly available US Census data). This puts the approximate total count of the number of establishments in 10001 at 7,277. As is to be expected from a growing count of business establishments, the total number of employees in 10001 is also up — averaging an annual growth rate of about 1.45% over the period observed. To complete the trifecta is the growth in average salary: the current average salary in 10001 is estimated to be $68,051, and has enjoyed a growth rate of approximately 3.65% over the past 5 years. Growing establishment counts, employee counts, and average salaries suggests the business climate for 10001 is pretty hot.
As for which industries are growing quickly in 10001, Museums may be worth looking into. There appear to be about 14 establishments identifying as museums in the 10001 zip code, and that number has been growing at about 14.87% per year. For those interested in riding trends, that may be something to watch.
A Look at the Demographics of 10001 in Chelsea
As for insights into age, we should note that elderly returns (filed by those 65 or older) accounted for 17.21% of all returns in 10001, which suggests more than 1 in 6 residents in this zip code are seniors. On the flip side, we saw that 2.15% included a childcare credit, which may shed insight into the size of the presence of young families in the zip code — or, in this particular case, a lack thereof. These observations coupled together suggest an aging demographic. Here's a chart summarizing the key demographic attributes of 10001: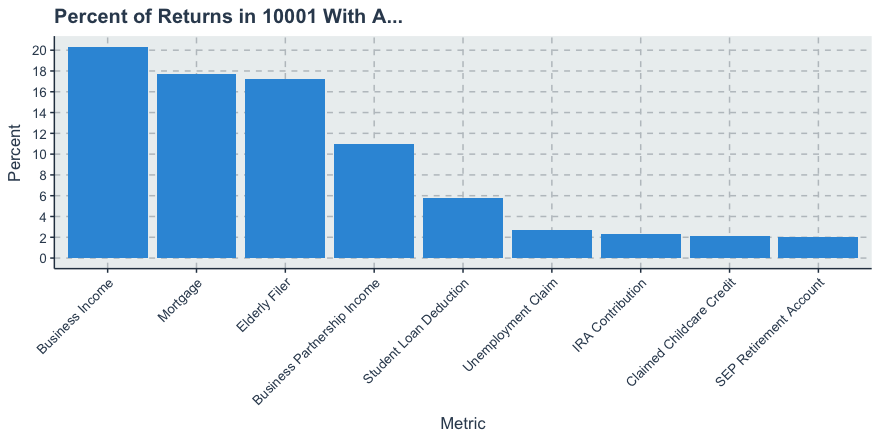 Highlights From Tax Returns Filed in 10001
Drilling down into the demographics of the 10001 zip code in Chelsea, we find a few interesting anomalies:
The total reported total income for the zip code is a bit over $2.8 billion USD — that's greater than about 98.46% of returns in our New York City zip code set.
It should also be noted that the partnership income total in 10001 ranks higher than approximately 98.15% of New York City zip codes, with the IRS reporting a value of just under $245 million in income for partnerships for the entire zip code.
Have additional questions on buying or selling a business in 10001 in Chelsea, or in other parts of New York City? We'll be happy to help you as best as we can. Just drop us a line.
Automated Insights by SixJupiter
Read More