Exploring Business Opportunities in 10002 (Lower East Side)
VNB Brokers is providing an analysis of business opportunities in the various zip codes of New York City to help entrepreneurs understand opportunities in buying and selling businesses in the city. For previous posts in this series, check out our section on New York Business Insights. 
The Business Landscape in 10002 (Lower East Side)
Overall, the business environment in 10002 — the dominant zip code in the Lower East Side neighborhood of New York City — is up, with the number of establishments having a yearly growth rate of about 0.34% per year from 2012 through 2016 (the last year of publicly available US Census data). This puts the approximate total count of the number of establishments in 10002 at 3,005. As is to be expected from a growing count of business establishments, the total number of employees in 10002 is also up — averaging an annual growth rate of about 1.63% over the period observed. To complete the hat trick is the growth in average salary: the current average salary in 10002 is estimated to be $33,478; moreover, this average salary has enjoyed a growth rate of approximately 3.44% over the past 5 years. Growing establishment counts, employee counts, and average salaries suggests the business climate for 10002 is pretty hot.
As for which industries are growing quickly in 10002, Museums may be worth looking into (incidentally, this was also the case in Chelsea). It now has about 10 establishments in the zip code, and has been growing at about 10.76% per year. For those interested in riding trends, that may be something to watch.
A Look at the Demographics of 10002
Regarding the age of the zipcode's residents, note that elderly returns amounted to 18.99% of all of its tax returns, or just over one in six. On the flip side, we saw that 2.91% included a childcare credit, which may shed insight into the size of the presence of young families in the zip code. Here's a chart summarizing the key demographic attributes of 10002: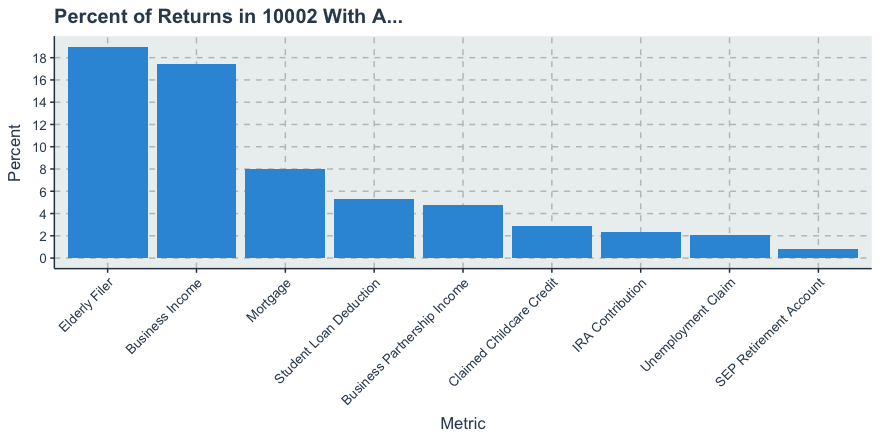 Highlights From Tax Returns Filed in 10002
As for the demographic breakdown of 10002, here are some of the facts we found to be especially worth observing:
10002 is one of the most heavily populated zip codes in New York, as it can claim more filings than over 99% of other Manhattan zip codes.
One of the more notable characteristics of 10002 is that its residents appear to be especially committed to retirement planning; the zip code's population ensures that on an absolute basis it has more returns with IRA contributions than almost every other zip code in Manhattan, but even when comparing the percentage of filers in a given zip code with IRA contributions, 10002 on the Lower East Side has a greater percentage of contributors than over 86% of its fellow New York City zip codes. If you have a business that caters towards a demographic that contributes to retirement planning, this may be an opportunity worth noting.
Have additional questions on buying or selling a business in 10002? We'll be happy to help you as best as we can. Just drop us a line.
Automated Insights by SixJupiter
Related Posts