Opportunities on the Other Side of Wall Street (10006)
VNB Brokers is developing a series of blog posts taking a deep dive into the opportunities available for small businesses in each of New York City's inner neighborhoods. To help buyers and sellers of small businesses alike understand the risks and opportunities in businesses for sale throughout New York City, VNB Brokers is creating a series of blog posts exploring opportunities in the various zip codes of New York City. For other posts in this set, visit the New York Business Insights section of our web site. 
The Business Landscape in 10006
Last time in our series, we took a look at 10005, a Wall Street zip code, to help us understand the business climate there; this time, we'll dive into another zip code right by Wall Street: 10006. The total number of business establishments in 10006 have been averaging a yearly growth rate of about -1.23% annually over the past year (as reported by US Census data), which constitutes a small decline. In absolute terms, the estimated number of business establishments in the 10006 zip code was reported to stand at 799 as of 2017. Interestingly, though, the decline in establishment is NOT coupled with a drop in employee count; employee count in the zip code is actually growing by about 2.17% annually. A drop in establishment count coupled with an increase in total employees suggests the potential for some kind of industry consolidation to have occurred. The decline in establishments and the rise in employees is met with a rise in average salary, as salaries have been rising by about 1.47% annually. Falling business establishment count, coupled with rising employee and salary count, may suggest mature industries are finding their home in 10006.
A Look at the Demographics of 10006
If population age is a factor for businesses you're buying or selling, note that in 10006, the 65+ age group makes up about 6.07% of the tax return filers. On the other end of the age spectrum, note that 2.43% included a childcare credit — which may give a clue regarding the density of young families in the area. Here's a chart summarizing the key demographic attributes of 10006: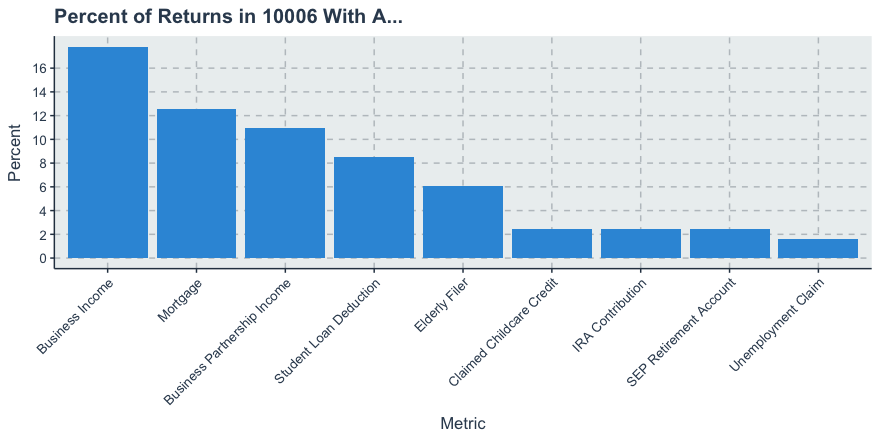 Highlights From Tax Returns Filed in 10006
As for the demographic breakdown of 10006, here are some of the facts we found to be especially worth observing:
For 10006, the reported number of elderly returns is 150. That's very low, basically in the bottom 1% of elderly returns in our New York City zip code set.
Also of note is the number of partnership returns in 10006; that ranks higher than 96.67% of New York City zip codes we observed, meaning there are more business partnerships in this zip code then basically anywhere else in the city.
Finally, it should be noted that the num of tax returns with a contribution to an SEP IRA (retirement account for the self-employed) in 10006 ranks is higher than all but 4% of New York City zip codes; this corresponds with the partnership data, and suggests the partnerships in the area are characterized by those willing and able to save for retirement and engage in similar forms of financial planning.
Have additional questions on buying or selling a business in 10006? We'll be happy to help you as best as we can. Just drop us a line.
Related Posts