Salaries in Murray Hill are Growing
Looking for insights to help you buy or a sell a business in New York? Our New York Business Insights section may be of interest to you; it's where we review each zip code in New York and evaluate the economic environment there based on data from the US Census and IRS. The article below summarizes our findings from the 10016 zip code.
The Business Landscape in 10016 (Murray Hill)
The total number of business establishments in 10016 have been averaging a yearly growth rate of about -0.53% annually over the past 5 years (as reported by US Census data), thus constituting a consistent annual decline. In absolute terms, the estimated number of business establishments in the 10016 zip code was reported to stand at 5,776 as of 2017. Interestingly, though, the decline in establishment count is NOT coupled with a drop in employee count; employee count in the zip code is actually growing by about 1.12% annually. A drop in establishment count coupled with an increase in total employees suggests the potential for some kind of industry consolidation to have occurred. The decline in establishments and the rise in employees is met with a rise in average salary, as salaries have been rising by about 3.31% annually. Falling business establishment count, coupled with rising employee and salary count, may suggest mature industries are finding their home in 10016. If this holds true, mature industries may help stabilize the environment and create repeat customers for local businesses in the area.
A Look at the Demographics of 10016
Looking at the most recently available tax returns from the IRS (2017), we see that there were 32,720 tax filings from the 10016 zipcode, giving it more filed tax returns than most other zip codes in New York City. Regarding the age of the zipcode's residents, note that elderly returns amounted to 17.54% of all of its tax returns. Here's a chart summarizing the key demographic attributes of 10016: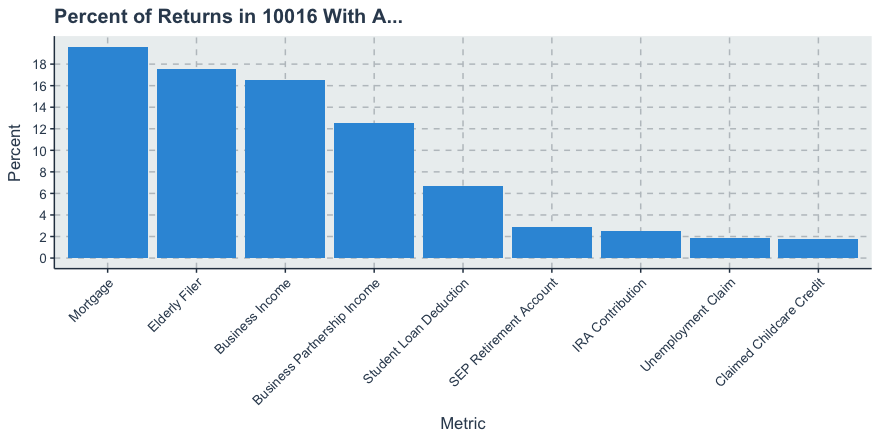 Highlights From Tax Returns Filed in 10016
As for the demographic breakdown of 10016, here are some of the facts we found to be especially worth observing:
The salary of Murray Hill tax filers is especially noteworthy; its average salary of $91,472 make it wealthy in comparison to other zip codes and the United States at large.
As we noted earlier here, the growth rate of salaries in 10016 is 3.31% — a growth rate that surpasses the salary growth rate in about 85% of zip codes in New York City.
Have additional questions on buying or selling a business in 10016? We'll be happy to help you as best as we can. Just drop us a line.
Related Posts