What to Know About Businesses for Sale in Soho
Want to understand how businesses for sale in a given New York City neighborhood are faring? Our New York Business Insights series takes a deep dive in to each of the zip codes in Manhattan to understand the opportunities and risks they present. 
The Business Environment in 10012 (Soho and Noho)
verall, the business environment in 10012 is down, with the number of establishments having a yearly growth rate of about -0.55% per year from 2012 through 2017 (the last year of publicly available US Census data). In absolute terms, the estimated number of business establishments in the 10012 zip code was reported to stand at 2,871 as of 2017. As is to be expected from a falling count of business establishments, the total number of employees in 10012 is also down — averaging a drop of about 7.04% per year over the period observed. Given its boundaries, rangebound traders may find it compelling to entertain selling, as we are nearer to the top of the range. Interestingly, the decline in establishments and employees in 10012 is actually resulting in higher average salaries: the average salary in 10012 has been increasing by about 5.38% annually. Is this suggesting that business activity is declining, and establishments are favoring preserving higher wage employees? Incidentally, the average salary residents in this zip code is about $68,809 — which puts it in the top 2% of New York City zip codes.
A Look at the Demographics of Noho & Soho
Looking at the most recently available tax returns from the IRS (2017), we see that there were 12,540 filed from the 10012 zipcode, giving it more filed tax returns than 85.78% of the New York City zip codes we're observing. In other words, this is one of the more densely populated areas of New York City, and thus a potentially interesting location for any business that thrives on a large local population. Also of note is that less than 2% of tax filters reported an unemployment claim, further supporting the notion that the zip code is home to a substantial amount of wealth, even by New York City standards. The chart below illustrates some other demographic attributes of the 10012 zip code.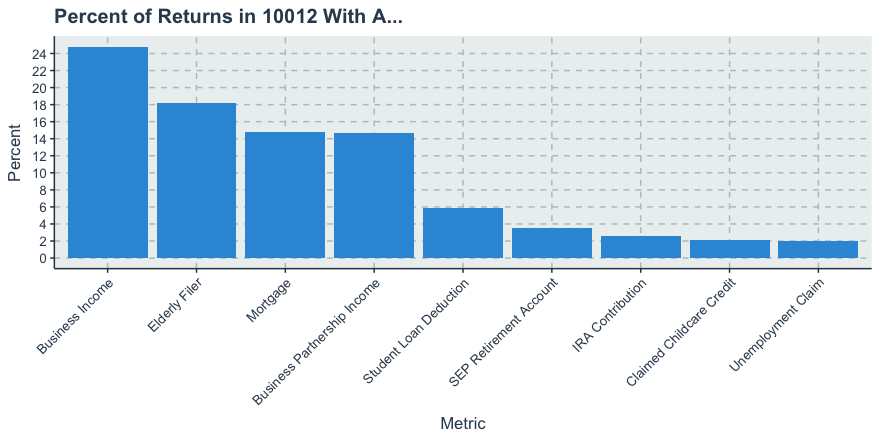 Have additional questions on buying or selling a business in 10012? We'll be happy to help you as best as we can. Just drop us a line.
Related Posts