What's the Opportunity Like for Small Businesses for Sale on Wall Street?
VNB Brokers is developing a series of blog posts taking a deep dive into the opportunities available for small businesses in each of New York City's inner neighborhoods. To help buyers and sellers of small businesses alike understand the risks and opportunities in businesses for sale throughout New York City, VNB Brokers is creating a series of blog posts exploring opportunities in the various zip codes of New York City. For other posts in this set, visit the New York Business Insights section of our web site. 
An Overview of the Economic Landscape in 10005 (Wall Street)
Overall, the business environment in 10005 is up, with the number of establishments having a yearly growth rate of about 1.48% per year from 2012 through 2017 (the last year of publicly available US Census data). This puts the approximate total count of the number of establishments in 10005 at 1,370. As is to be expected from a growing count of business establishments, the total number of employees in 10005 is also up — averaging an annual growth rate of about 4.65% over the period observed. It may be worth noting that the growth in establishments and employees comes along side a decline in average salary, which has been falling by about 3.33% annually. This suggests the growth may primarily becoming in jobs offering a lower wage than before.
As for which industries are growing quickly in 10005, Caterers may be worth looking into. It now has about 4 establishments in the zip code,and has been growing at about 31.95% per year. For those interested in riding trends, that may be something to watch.
A Look at the Demographics of 10005
Regarding the age of the 10005 residents, note that elderly returns amounted to 6.42% of all of its tax returns. On the flip side, we saw that 2.03% included a childcare credit, which may provide a clue regarding the presence of young families in the area. Here's a chart summarizing some of the demographic attributes of 10005 we found most interesting: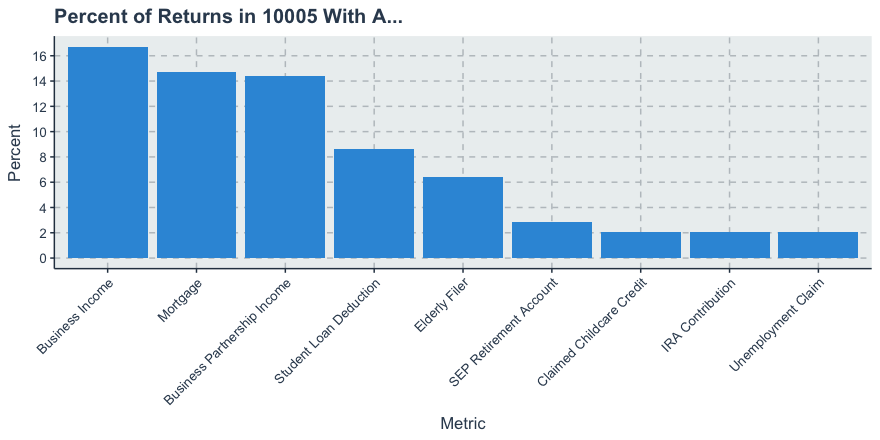 Highlights From Tax Returns Filed in 10005
Drilling down into the demographics of 10005, we find a few interesting anomalies:
The total reported number of elderly returns for the zip code is 380. Almost 99% of New York City zip codes have more elderly filers, so relative to the rest of the city, this group is pretty young.
Also of note is the total income in 10005; it ranks higher than 98.97% of New York City zip codes we observed. In sum, this demographic is fairly young and wealthy, by New York standards.
Finally, it should be noted that the partnership income total in 10005 ranks higher than approximately 98.97% of New York City zip codes, with the IRS reporting a value of 372,873 for the entire zip code. This suggests small, partnership businesses in the area are doing well from relative to their peers elsewhere in the city.
Have additional questions? We'll be happy to help you as best as we can. Drop us a line if you're interested in buying or selling a business in New York.
Related Posts