Business Activity Shows Some Signs of Decline, But Incomes Remain Solid in the Meatpacking District
The New York Business Insights section of VNBBrokers.com is dedicated towards helping individuals understand opportunities to buy or sell a business in a given neighborhood within New York City. In this entry, we'll explore zip code 10014, affectionately known as the Meatpacking District. 
The Business Landscape in 10014 (Meatpacking District)
The total number of business establishments in the 10014 zip code, generally known as as part of the Meatpacking District, have been in decline, dropping 1.45% annually over the past year (as reported by US Census data). This puts the approximate total count of the number of establishments in 10014 at 2,329. As is to be expected from a falling count of business establishments, the total number of employees in 10014 is also down, but slightly less; employee count fell by 0.39% over the past year. Interestingly, the decline in establishments and employees in 10014 is actually resulting in higher average salaries: the average salary in 10014 has been increasing by about 5.06% annually. Is this suggesting that business activity is declining, and establishments are favoring preserving higher wage employees?
A Look at the Demographics of 10014
According to tax returns from the IRS approximately 18,720 were filed from the 10014 zipcode in the most recent year of publicly available data, which is substantially higher than most other zip codes in Manhattan. As for insights into age, we should note that elderly returns (filed by those 65 or older) accounted for 20.3% of all returns in 10014. Here's a chart summarizing the key demographic attributes of 10014: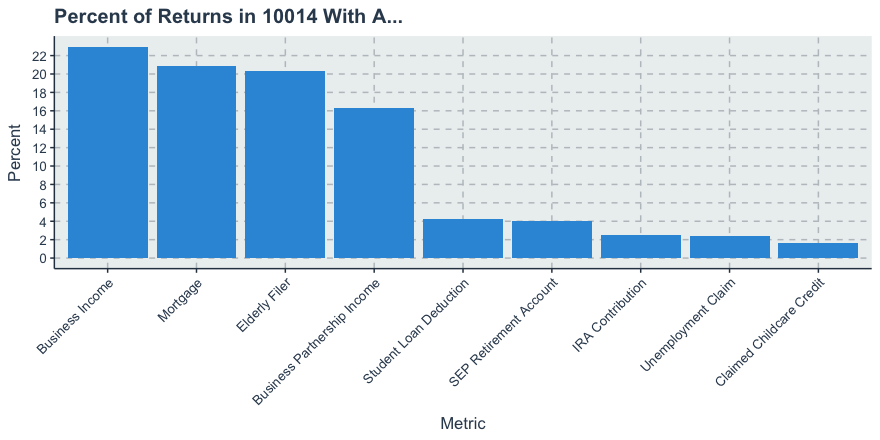 Highlights From Tax Returns Filed in 10014
The most striking aspects of the tax return data from 10014 of the Meatpacking District relates to salary and unemployment data, which have gone in the right direction over the past year. As noted above, salaries are up, and supporting this notion is that unemployment claims on tax returns are down 17% from the year prior. So while business activity is declining by some measures, measures of income remain solid.
Have additional questions on buying or selling a business in 10014? We'll be happy to help you as best as we can. Just drop us a line.
Related Posts